October 2015- Youth Helping Youth Sticker Shock
On October 28th members of Youth Helping Youth conducted a prescription drug sticker shock at Nathan Hale Pharmacy. Stickers were placed on 500 prescription bags to inform and educate customers on youth prescription drug misuse and abuse. Next to marijuana & alcohol the most common drugs East Haddam teens are using to get high are prescription medications. As a community we can all play a role in preventing prescription drug misuse and abuse. Please remember to keep medication in a safe and secure place and take the time to discuss the dangers of prescription drug use with the youth in your life. Thank you to the Youth Helping Youth members and Nathan Hale Pharmacy.
---
September 2015- East Haddam Unplugged Family Trivia Night
On September 18th the Local Prevention Council hosted East Haddam Unplugged- Family Trivia Night. Many families & friends came out to disconnect from technology and connect with those around them. It was wonderful to see so many families making positive connections with their youth by spending time and interacting with them. EHLPC would like to congratulation Team Flip Flops & Team Luscious Ladies & Lance who tied for first place!! We look forward to the next East Haddam unplugged event.
---
June 2015- Business Appreciation Breakfast
On June 30th the Local Prevention Council hosted a business appreciation breakfast to acknowledge and thank those businesses who support youth in East Haddam. We acknowledged businesses that support youth through donations, volunteerism, youth employment, or youth programming. The contributions of these businesses have been an important part of making East Haddam a place that takes care of its kids. Because of our community partnerships, the prevention council has been able to offer several youth, parent and community education programs and activities this year. They have helped us to limit youth access to drugs and alcohol, and decrease the number parties where underage drinking and drug use occur.
At the breakfast we also presented two Outstanding Asset Builder Awards to Jack from Nathan Hale Pharmacy and Mark from Two Wrasslin' Cats. These two individuals have provided youth in our town with significant support. Jack provides financial support to the youth in our community through donations and youth employment. Mark opens his business and welcomes youth for weekly coffee talk and provides a safe and substance free place for youth to come and hang out. Our community and youth are very lucky to have such wonderful individuals.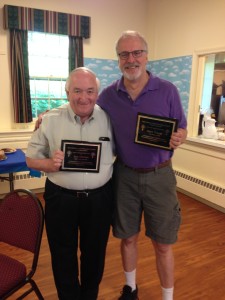 ---
May 2015- Youth Helping Youth Sticker Shock
On May 1st and 2nd members of Youth Helping Youth conducted a sticker shock at our local package stores. The stickers are a reminder to customers to prevent underage drinking and sales to teens. Thank you to Moodus package store, Swing Bridge Wine and Spirits, and Tony's package store for participating.
Members of Youth Helping Youth also conducted a prescription drug sticker shock at Nathan Hale Pharmacy. Stickers were placed on prescription bags to inform and educate customers on youth prescription drug misuse and abuse.
---
March 31st- "Stronger Together"
On Tuesday March 31st the coalition hosted an interactive community presentation, "Stronger Together" that focused on results from our October 2014 youth survey and ways in which youth and adults can work together to build a stronger community. Participants discussed simple actions that can be taken at the individual and community level to help our youth feel respected, accepted and valued. There were many examples of steps that can be taken, including:
Engaging youth to volunteer in the community;
Stopping and saying hello to youth, even though you might not know them;
Creating more programs that involve adults and youth (such as hiking, running, etc.)
---
January 14th- "Marijuana-What's The Big Deal?"

On January 14th from 6:30-8pm the East Haddam Local Prevention Council hosted a town hall forum to discuss youth marijuana use. Three local experts presented information and participated in the community conversation.
• Dr. Alicia Farrell, a cognitive psychologist, discussed how marijuana impacts the developing adolescent brain.
• Dr. Robert Powers, former state toxicologist, presented on the changing THC levels of CT marijuana and the dangers of synthetic marijuana.
• Francis Carino, supervisory assistant state's attorney, discussed the legal issues and consequences of youth marijuana use.
The presentation brought the community together to have a conversation about why marijuana is a big deal. The EHLPC had many community members, including youth, participate in an informative conversation.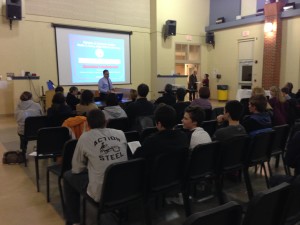 ---
October 9, 2013 – "Connecting With What Matters: A Call to Action" Event
Recognizing the Importance of
Community in Addressing Youth Substance Use
On Wednesday October 9, 2013, the East Haddam Local Prevention Council hosted "Connecting With What Matters: A Call To Action" at Nathan Hale-Ray Middle School. The event brought together more than sixty people representing many different groups in our community. Youth, parents, school staff, church and civic leaders, business owners, police, medical personnel and representatives from town and state government came together to join the effort to combat underage substance use in East Haddam.  Sylena Krazkowski, President of Youth Helping Youth, joined Christine Steele, Prevention Coordinator, in opening the event and shared how even the presence of drugs and alcohol affect her school community and why the youth and community voice matter in helping to reduce underage substance use.  David Moreau & Kevin Moffatt, Youth Helping Youth officers, and Toni McCabe, Director of East Haddam Youth & Family Services, presented current trends in substance use in the community and the important role that building assets plays in reducing underage drinking and drug use.
In second part of the evening, council members led small group discussions that focused on setting boundaries and expectations at home, school and in the community, the importance of role modeling and giving our children the skills they need to make healthy choices. Many recognized the importance of reaching out and communicating with one another in order to build relationships with and for our youth.  Attendees stressed that everyone – churches, schools, parents, general community – need to work together to establish a strong sense of community.
The event closed with a compelling speech from Joshua Lake, the Public Relation Coordinator of Youth Helping Youth. He reminded the audience that all of us are unified by the common belief that our community can be a safer and more wholesome environment and that all of us can work together to address this issue on all fronts.
"While some actions may be considered small, every step leaves a footprint and every movement a trail for others to follow."… Joshua Lake
The East Haddam Local Prevention Council is an alliance of individuals and groups in which members all agree to work together toward the common goal of raising kids to be strong, safe and substance free. We would like to thank Aramark, DARE, MPAC and PTO for providing food and monetary donations for this event. It is the first of many gatherings that will focus on connecting with one another to build on the many positive things that are already going on to keep our youth strong, safe and substance free.
Lastly, we would like to thank all who attended the event. A collective action makes our community stronger so please let's keep the discussions going!
---
June 18, 2013- Sticker Shock
            Graduation time is here, and the East Haddam sticker shock has been completed. This past Friday, several youth from Youth Helping Youth volunteered to put stickers on several containers of alcohol at the Moodus Package Store. They managed to place hundreds of them all around the store. This serves as a reminder to parents of the consequences of hosting underage drinking parties and supplying alcohol to minors. We at Youth Helping Youth and East Haddam Youth and Family Services hope you will stay safe, and abide by the law. Remember: parents who host, lose the most.-  written by Joshua Lake- Youth Helping Youth
---
June 11, 2013 – Local Businesses Making the Effort in Reducing Youth Access to Alcohol
On the evening of Friday, June 7th, agents from the Department of Consumer Protection's Division of Liquor Control and the Resident Trooper's Office of East Haddam conducted compliance checks of package stores, grocery stores, and restaurants in East Haddam and Moodus. This followed a series of trainings offered to local businesses that either sell or serve alcohol (TIPS) by East Haddam Youth & Family Services and the East Haddam Local Prevention Council. Compliance checks are an effective means of reducing youth access to alcohol. Young people, under the age of 21, who had been trained and provided by the Governor's Prevention Partnership, entered nine (9) locations in town and attempted to purchase alcohol liquor as a minor.
East Haddam Youth & Family Services and the East Haddam Local Prevention Council would like to acknowledge those businesses in town that were found to be in compliance and enforcement of CT state liquor laws by
not allowing
the sale to minors.
The premises in compliance are:
American Legion,     Moodus
Gelston House,  East Haddam
Hilltop BBQ     & Steak House, Moodus
Moodus Package     Store, Moodus
Two Doors Down,     Moodus
Sanibel Farms,  East Haddam
We commend those businesses in our town that did not allow young people to purchase alcohol in their establishments and we thank them for helping to keep our kids safe, strong and substance free.